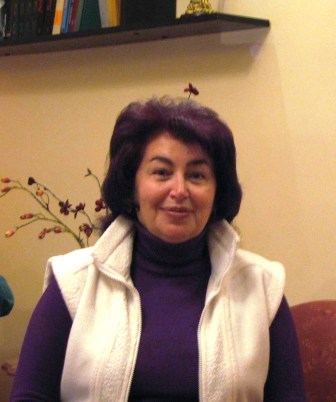 Irene Yavchunovsky has been living in Israel since December 1993.
She came from the Crimea (Ukraine).

Irene taught in the Crimean University, translated and edited translations for publishing house "Tavria".

In 2000 she received an MA of Arts of the University of Liverpool.

Irene's poems and translations are published in Almanac "South", journal "Alia", Israel; journal "Ami", Petersburg (Russia); "Tavrida's Shores", the Crimea (Ukraine), and journal "U" Moscow (Russia)

Irene is the author of the book "Variegated World", Moscow, 2005 and the virtual book "Mother Goose Tales" – translations into Russian.

Obshestvo IRAS - International Russian Art Society
Russia,Ukraine, CIS and Abroad

Irene has been active in the Society right from the time she joined in 2006 and held the positions of Regional Director Israel North, was appointed Country Director Israel & Ukraine in 2008, and continues to act as Coordinator for the Haifa and Northern Region of Israel.

In May 2008 the Tiberias Representation was established with Lubov Znakovsky as IRAS Representative, Head of the "Galey Kinneret" Literary Studio.

IRAS - Russian Cultural Center (RKC-RCC) - Liaison - Tel Aviv

Since the opening of this important cultural center in Tel Aviv (Sep.2007) Irene has been actively involved together with Gil Pahl, IRAS Chief Coordinator and other IRAS members from the Tel Aviv Region. Close ties have been established and meetings take place on a regular basis.


Irene is a member of the Writers' Union of Israel, press secretary of the journal "Alia" and the jury member of the virtual contest "Terror and Children" on the site of Yanush Korzak House in Jerusalem.

Regular contacts/visits are maintained with the Ukraine to further our literary and art work there as well.